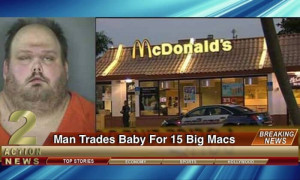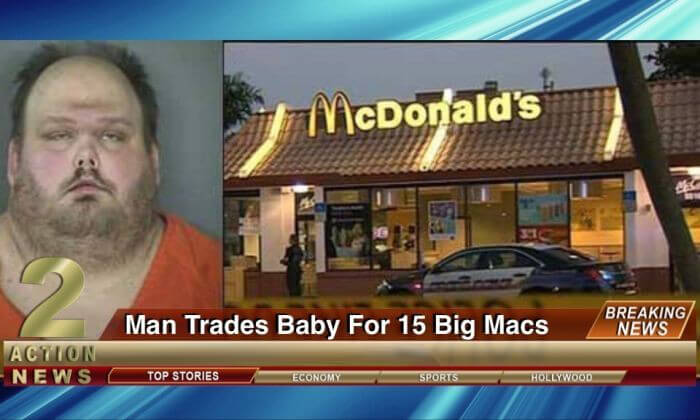 Little Rock, Arkansas – A three-month old baby has been reunited with her parents after being kidnapped from Riverfront Park. There are not many details on how the man kidnapped the baby, however, it's what he did with her after the kidnapping that has the community shocked.
According to McDonald's employees, 45-year-old Henry Osterman entered the restaurant around 7:30 PM with a baby wrapped in a blanket. He seemed a bit nervous and told the employee at the cash register that he had the munchies and ordered 15 Big Macs. According to reports, the cashier gave him his total and he handed the baby to her. "I look to him and said 'Whatcu think I'm gonna do with that,'" said Chandra Wilkins head cashier at the Little Rock McDonald's. "He told me he didn't have any money but I could take the baby. I said 'Fool you need to back the f*ck up'. Then that's when he threw the baby at me, ran behind the cash registers and grabbed every burger on the food warmer. That white man was crazy."
Two employees stepped into action and tackled the would be 'Hamburglar.' Unfortunately, being a heavy-set man, Osterman was too large for the employees to take down. Eyewitnesses say a third employee, Todd Williams, clotheslined the man with a broom handle and took him down to the ground. "That was a big dude," said Williams. "I grabbed the broom, swung at real real (sic) hard, and crack that punk in the neck. He fell and hit his head on the floor, knocked him clean out. My aim's on fleek."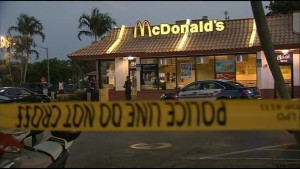 Police searched Osterman's 1972 cargo van in the McDonald's parking lot.  There, they discovered another infant strapped into a car seat, approximately 6 months old. They also located several firearms, knives and a neatly displayed collection of baby toys, bottles, and other baby related items. Additionally, they recovered several roles of duct tape, rope, and 20 bottles of Benadryl. Osterman was taken into custody and charged with kidnapping, assault, theft, and child endangerment. He is currently being held on an $800 bond.