Unfortunately for some, marijuana can be a tricky substance to use properly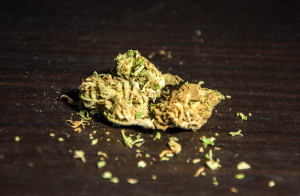 . A poor, overly stoned man in Austintown, Ohio just couldn't handle it. According to the Vindicator, a 22-year-old man made a 911 call around 5:30 pm on a Friday to complain that he'd gotten "too high" after smoking "the weed". He also later reportedly told officers he couldn't feel his hands.
Police found the 22-year-old smoker groaning, in the fetal position, "surrounded by a plethora of Doritos, Pepperidge Farm Goldfish and Chips Ahoy cookies," per the police report.
According to the report, the officers found a glass jar of weed, some rolling papers, a pipe, and some previously smoked roaches in his car when he gave them his keys. The man has not yet been charged with anything and had apparently turned down medical treatment, and no bail was set.
Thankfully, his 911 call was recorded for everyone's listening pleasure.